The Acura
Maintenance Minder System
calculates the life of the engine oil, transmission fluid; air and micron filters, coolant, spark plugs, timing belt, and rear differential fluid. Because a computer is calculating the
life span
of the different items, a scheduled maintenance list based on mileage is no longer used.
The computer determines the life of each item based upon the driving conditions of the vehicle. If the engine runs at higher temperatures and RPM, or at low temperatures during short trips, the oil life will deplete faster than an engine running under more normal conditions. It will indicate a percentage of oil life on the vehicles display.
This system is unique in that it has the ability to move up or delay other services so when it's time to have an oil change it will tell you the other services that are needed at the same time to keep the service visits to a minimum.
The maintenance minder system shows engine oil life in the information display to let you know when it's time to have the engine oil replaced and regular maintenance done.
There's no longer a maintenance schedule in the owner's manual!
The system shows engine oil life as a percentage which drops over time as the vehicle racks up miles. It starts out at 100% with fresh engine oil and winds down to 0% signaling the oil life is over. The system counts down oil life based on engine operating conditions.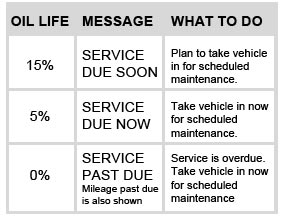 Depending on the oil life percentage, the system shows three different messages when you turn the ignition switch to ON.
Here's what you could see: A percentage will show up on the display starting at 100% and diminishing as the vehicle is driven. Once the percentage gets to 15%, a wrench on the dash is illuminated letting you know that service is due soon. The first part of the code is the main code. It's either A or B, never both. The second part of the code is the sub-code. It will be a numeric code from 1 thru 6.
If there is any information you would like to see on our website please see your Service Advisor or call
(877)-872-0340
with any questions you may have. Or e-mail us at:
service@precisionacura.com